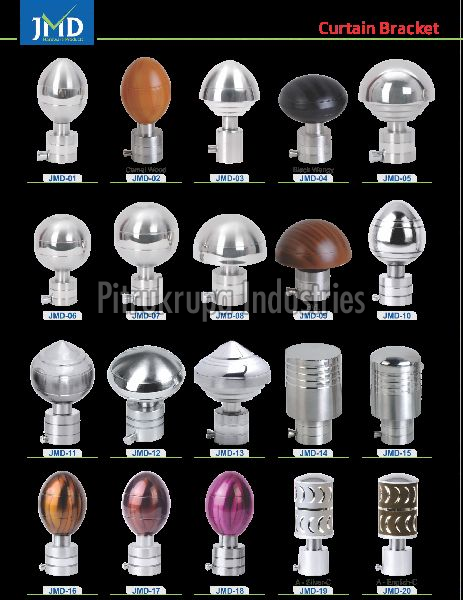 There is no denying the fact that one is said to be a genius if he/she cleverly repurpose things for uses they weren't originally intended for. Just like that, in this article, today we are gonna discuss how smartly we can play with curtain brackets and can use them apart from the window curtains of the house. If you think that curtain brackets are only meant for the curtain hanging purpose, then you are miserably wrong for we have quite a few other innovative ways with which we can enhance the overall beauty of our space. Let's have a look:

1. Organize Your Bathroom
One of the foremost and our personal favourite creative use of curtain bracket is in your bathroom. You can add up the additional storage of your bathroom by hanging curtain brackets and placing your utilities easily. Clip up headbands, brushes, necklaces, and hair ribbons to name a few are the ones that can be hanged there.

2. Tablecloth Weights
Curtain brackets can also be used to weigh down a tablecloth by using at least four clips from where the cloth is hanging. What you can do is that you can clip one onto each corner of the tablecloth and the weight will help your tablecloth from wither blowing away or from falling down. This would help you in the windy conditions as well as will raise the bar of your décor.

3. Display Artwork
Now, this one is the most creative of all. With the help of curtain brackets, you can thread a few curtain clips onto a curtain rod and hang a few pictures moments, or your kids' artwork and can put them on display. You can also change the pictures in future as and when you like.

4. Maximise Closet Space
Well, well, well! Once you pair curtain brackets with tension rods, it can do wonders in your closet as well. You can clip up clutches, belts, hats, shorts, and even boots. Not just this, you can also add a few more layers of storage space to your closet and that too ASAP without actually making any everlasting alterations.

5. Organise dishes/utensils
For those who want to creatively use curtain brackets, one can also go for a pot rail that can prove to be an elegant kitchen storage solution. This way you can organise your kitchen also by hanging the handy items out there at the pot rail.

6. In the bedroom
If you have a canopy bed in your bedroom, nothing can actually beat that royalty. Correct us we are saying wrong! There is no denying the fact that canopy beds are very expensive, nonetheless, they are royal too at the same time. Or what if you get that feel without outlaying much? Yes, you can do that by adding mounting a pipe frame from curtain brackets. Isn't this so cool?

Do you have any other creative way of using curtain brackets? Do share that with us in the comments section below. Also, there are Curtain Brackets Manufacturer in Rajkot, who can further guide you as to what to choose as per your requirements.