Metal Curtain Bracket – Varieties You Get
Posted by Admin on December, 09, 2019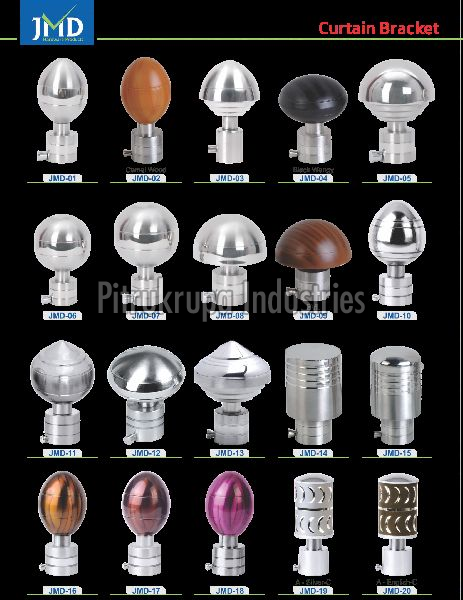 To hang a curtain apart from the rods having the right bracket for those rods is also essential. If the brackets are not sturdy and strong, your curtain rod will not be able to be bear the weight of your curtains. It should also complete the look of your curtain rod too. You can find different kinds of curtain brackets in the market.

Styles of Curtain Brackets
The curtain brackets come in various styles, colors, and materials. The brackets depend on your personal choice and preference of style. While choosing a style for your bracket, make sure that you the style that suits your set up. The curtain brackets come in various materials such as ceramic, plastic or wood. You can even find a metal curtain bracket supplier India. Metal is also amongst the most common bracket materials used by the producers, as it is durable and strong.

Different Sizes of Curtain Brackets
Curtain brackets come in different sizes. The common size of these brackets is 5/8" with a width of 1". However, you will also find brackets that are of bigger sizes. You need to check your curtain rods and ensure that these brackets hold your rods comfortably. You also need to make sure that the brackets you buy give a little space to your rods so that they don't get stuck.

Different Types of Brackets for Curtains
The brackets you choose should depend on the types and design of curtain rods you have chosen. The material should match the material of your rod.

• If you are choosing light and a single curtain, then you can go for single curtain brackets. The single curtain brackets can carry a load of all curtain materials as they are sturdy and strong.
• Double brackets are most useful when you are planning to use two-layer curtains. Double layered curtains give a designer look and give a different dimension to the windows.
• If the window where you want to hang your curtains is very wide, then it is better to use a center support brackets. This curtain bracket is used so that the curtain rod does not bend in the middle. The brackets are mostly used within 30-60 inches from each other. If your rod is more than that then you may need to use two brackets to support your curtain rod.
• Many houses have cornered windows. For this purpose, you would need to use an elbow bracket that fixes the curtain rods perfectly over the window and stabilizes the curtain rods.
• You can find adjustable brackets that are the most useful of the lot as you can adjust the brackets according to your requirements.

Ordering the Curtain Brackets in Bulk
You can order the curtain brackets in bulk for yourself by contacting the suppliers on their website or calling them. You can also enquire about the cost of the curtain brackets. You can find metal curtain bracket supplier India who also offers curtain brackets in material such as aluminium and stainless steel. You can be assured that you will get a quality curtain bracket at a reasonable price.
This entry was posted on December, 09, 2019 at 14 : 45 pm and is filed under Bracket. You can follow any responses to this entry through the RSS 2.0 feed. You can leave a response from your own site.