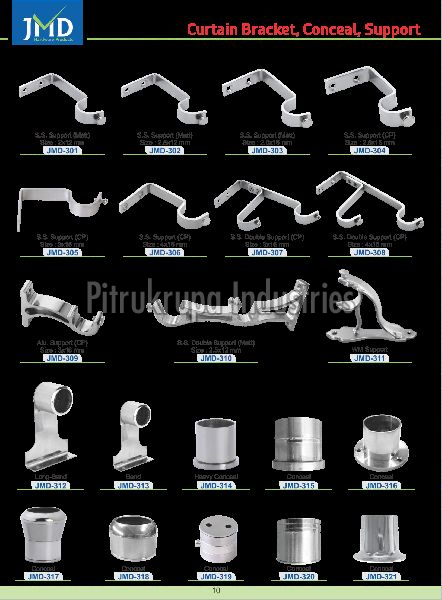 One of the most overlooked pieces of curtain hardware is the curtain brackets that are used to hold up the rod. Most of the rods that hold up drapery need to be supported by at least three brackets. Two should be at both ends and one in the middle to prevent sagging. Depending on the size of the window treatment and the weight of the fabric panels, the number of supports may vary.

An important part of the curtain-hanging method is getting the right curtain rod brackets to grip your rods in place and complete the look.
Here's everything you need to know about the verities of curtain brackets and how to select the right ones for your window.

Curtain Bracket Styles
Brackets come in many materials, including
• Metal,
• Ceramic,
• Plastics and
• Wood

Metal is a common material because it's durable, strong and blends into the background. If you are looking to make a statement, certain types of plastics and poly-resins give off a regal appearance.

Types of Curtain Rod Brackets
You need to select brackets after you pick out your curtains and rod to ensure the materials complement each other.

Single bracket
If you are going to hang one layer of curtains, single curtain rod brackets are the standard. Single brackets are vended in a set and strong enough to hold most curtain materials.

Double bracket
Double curtain brackets enable you to hang two layers of curtains. Layered curtains can assist many purposes, including adding dimension to your window and giving your curtains a more formal designer look.

Center support brackets
If your curtains cover a lengthy window span, you'll need a functional support bracket to hold the rod up and prevent it from bowing. Most rods require support brackets every 30-36 inches. If your window is longer than 60 inches across, you'll need two center support brackets.
You can get single or double center support brackets depending if you're hanging one or two layers of curtains.

• Elbow brackets
When a wall angles and your curtain rod needs to follow, you'll need to place an elbow bracket in the corner to realign the rod to the angle of the wall.
Some elbow brackets are adaptable to adequate many types of angles.

• Adjustable brackets
Adjustable curtain brackets let you extend or shorten the bracket to fit different types of windows. These brackets ensure you can achieve the right amount of depth on any window.

If you choose to consult with the experts, you will have the peace of mind and suitable advice you need when discussing any of the varieties available online.

Considering all varieties you can have advice from a trusted curtain bracket supplier in Gujarat. With guaranteed quality, style and customer satisfaction, there are numerous suppliers online who can offer their customers the full package of curtain brackets.

Here are some salient features of the leading curtain bracket manufacturers Gujarat:
• Fair-priced deals
• Different and safe modes of payment
• On-time and doorstep shipment
• Ethical trade practices
• Complete professional support